PROTECT YOUR DNA WITH QUANTUM TECHNOLOGY

Orgo-Life the new way to the future Advertising by Adpathway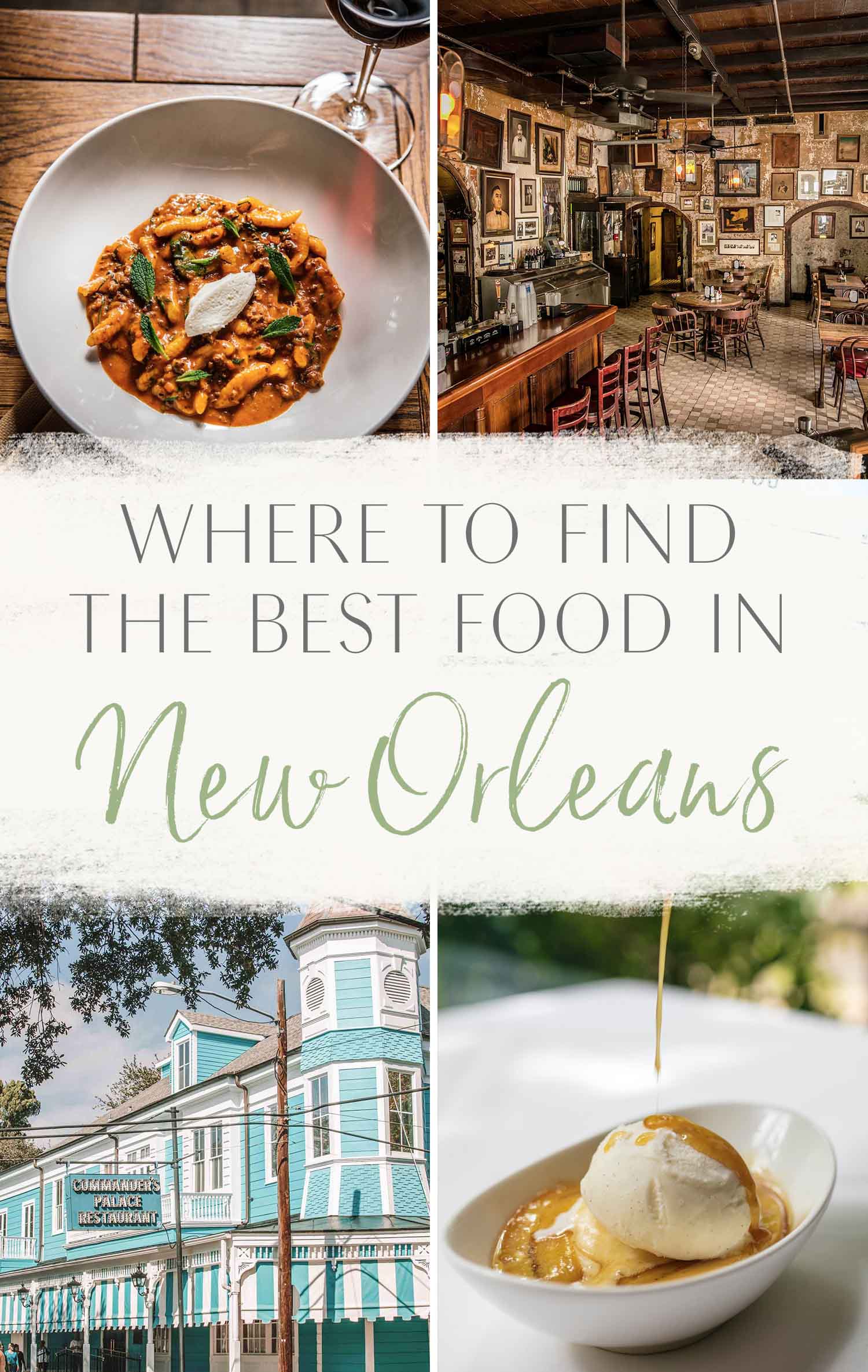 It's no secret that NOLA is a foodie's dream! Muffalettas and beignets are two of the famous dishes that originated in New Orleans that you should try on your visit, but there's so much more to the city's culinary scene.
Rounding up some of the best restaurants in New Orleans — from historic classics to those that put a fresh spin on Cajun and Creole delights, you'll definitely want to add a few of these places to your New Orleans itinerary.
From the French Quarter to Tremé to the Garden District and beyond, these are the best places to eat in New Orleans. You may want to pack some comfortable pants and prepare your tastebuds…
Here's where to find the best food in New Orleans!

*images courtesy of Josephine Estelle
Josephine Estelle
Arts/Warehouse District
$$ — Casual/Upscale
Southern-Inspired Italian Food
Campanelle Trapanese
Award-winning New Orlean's chefs Andy Ticer and Michael Hudman came together to create Josephine Estelle, a local favorite where you can find a unique menu that features Italian food with a Southern flair.
Located in the trendy Ace Hotel New Orleans, Josephine Estelle features a gorgeous dining room with accents like palm-leaf printed wallpaper and rich green velvet seating.
If you're looking for a new spin on old favorites, this is the New Orleans eatery for you.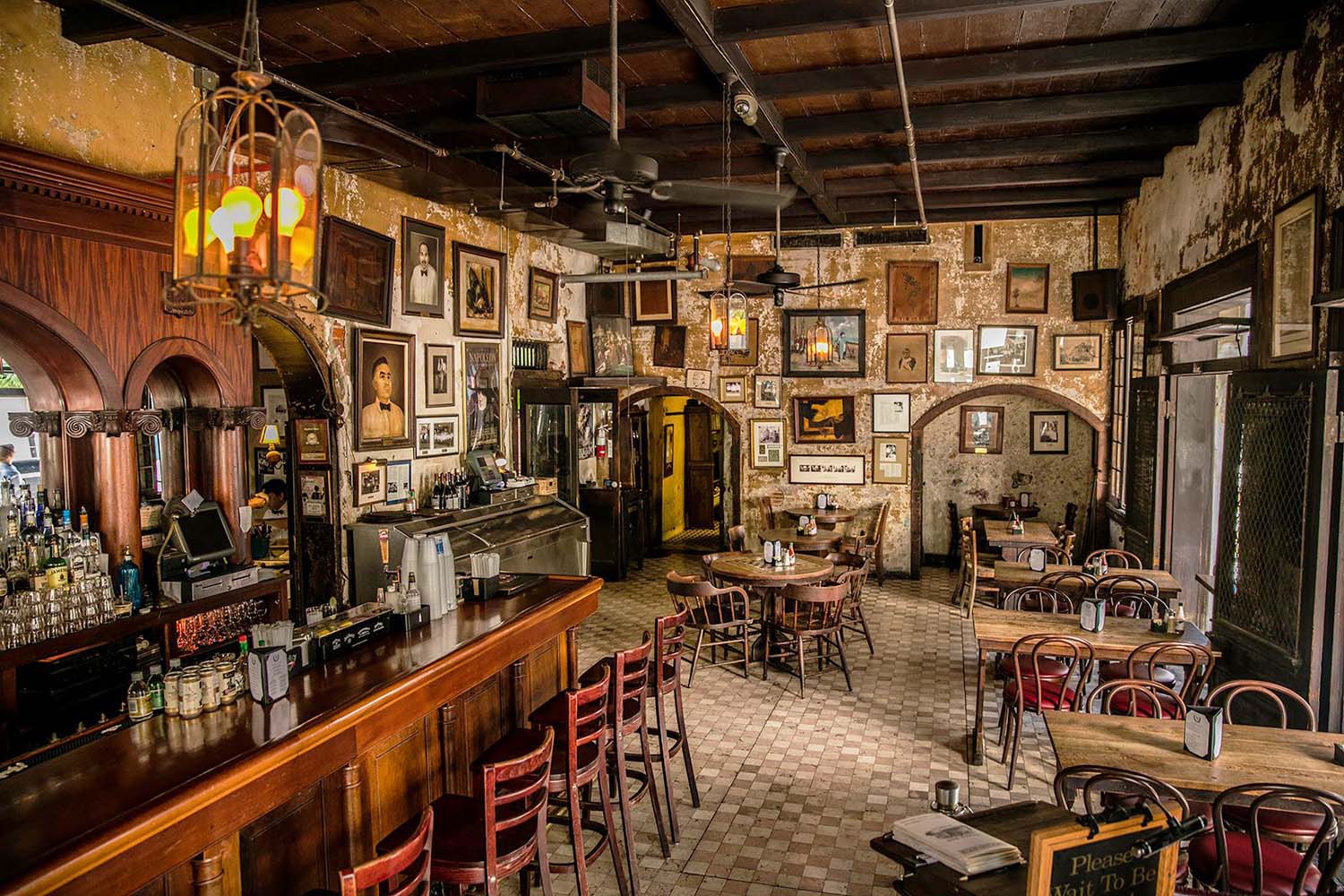 Napoleon House
French Quarter
$$ – Casual
Traditional Creole Cuisine
The Muffuletta and a Pimm's Cup
The French Quarter is one of the most iconic neighborhoods in New Orleans and it's full of amazing restaurants.
One of the best is Napoleon House, which has been serving traditional Creole cuisine to the people of the Big Easy for over a century.
The Muffuletta is a type of hearty sandwich that includes meats, cheeses, and a chopped olive salad served on a piece of muffuletta, which is a type of Sicilian sesame bread.
At Napoleon House the muffuletta is served heated to enhance the intensity of the flavors.
Yum!
Napoleon House is also famous for its Pimm's Cup, a gin-based drink that has hints of citrus and cucumber. It's refreshing on a hot NOLA day and a popular tradition for the restaurant.

Café du Monde
French Quarter
$ – Casual Coffee Stand
Coffee and Beignets
Chicory Coffee and Beignets (of course!)
Café du Monde is one of the best places to visit in New Orleans. It's a symbol of French influence in the city—plus, it's a great place to get coffee and beignets!
The Chicory Coffee you can get here was created by New Orleans Creoles during the Civil War when there was a shortage of pure coffee so they supplemented it with ground chicory roots.
The resulting drink tastes a lot like standard black coffee but with a nutty, woody flavor.
The coffee stand also serves up delicious fresh beignets…of course! This is likely the most iconic restaurant in all of New Orleans.
You might have actually had a taste of them before, even if you haven't been to New Orleans — Café du Monde sells a boxed beignet mix that you can buy at many grocery stores across the United States.

*image courtesy of Brennan's
Brennan's Restaurant
French Quarter
$$$ – Fine Dining
Traditional Creole Cuisine
Banana Foster
Although Brennan's Restaurant has a great menu of traditional Creole fare, the real stand-out item is the Bananas Foster.
Proprietor Owen Brennan actually created the iconic dessert at the restaurant in the 1950s and named it after his friend, Richard Foster.
If you've never tried Bananas Foster, it's an experience as well as a dessert. Butter, sugar, and bananas are cooked tableside and after adding some alcohol to the mix, the dish is ignited for a spectacular effect. The cooked bananas are then served over vanilla ice cream.
Talk about tasty!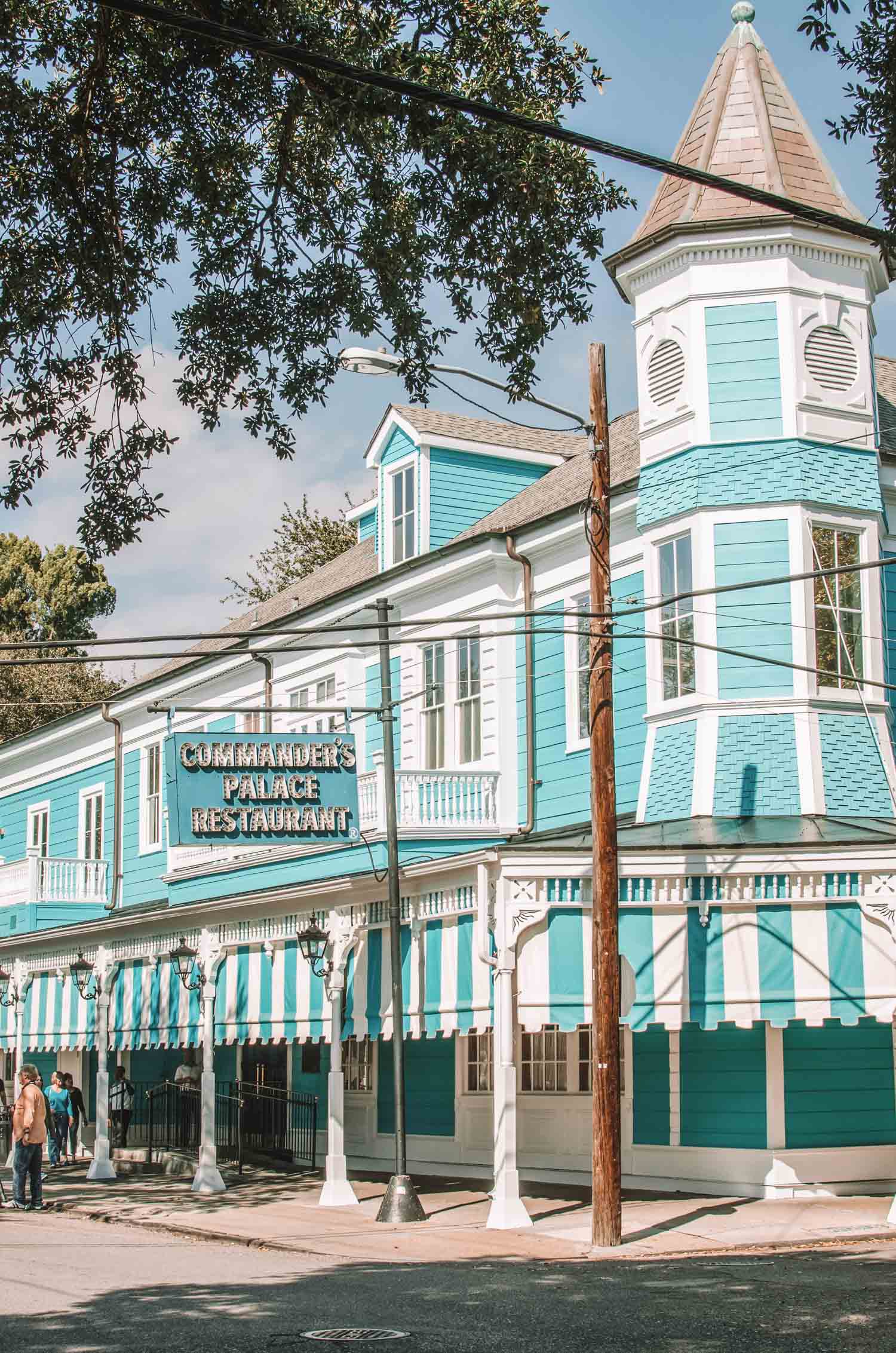 Commander's Palace
Uptown/Garden District
$$$ – Fine Dining
Traditional Louisiana Creole
Classic Creole Luncheon plus their 25-cent martinis!
The bright blue building on the corner of Washington Avenue and Coliseum Street is home to Commander's Palace, one of New Orleans' historic restaurants.
It opened in 1893 and almost immediately became a neighborhood favorite.
Commander's Palace is open throughout the day but the lunch menu is definitely a highlight.
The three-course lunch menu includes Creole Gumbo, Chicory Coffee Lacquered Quail, and finish off your meal with the Creole Bread Pudding Souffle.
You can also enjoy one of the restaurant's best-kept secrets: their 25-cent martinis which are available for anyone who is ordering an entrée.

*images courtesy of Willie Mae's Scotch House
Willie Mae's Scotch House
Tremé
$$ – Casual
Soul Food
The Fried Chicken
What's a New Orleans Foodie Guide without an excellent soul food recommendation?
Enter Willie Mae's Scotch House, a famed New Orleans eatery located in the Treme neighborhood. Its most popular dish is the fried chicken — Willie Mae's was actually named America's best fried chicken spot by the Food Network and the Travel Channel, just to name a few.
You can order your meal with the perfect soul food sides like cornbread muffins or butter beans.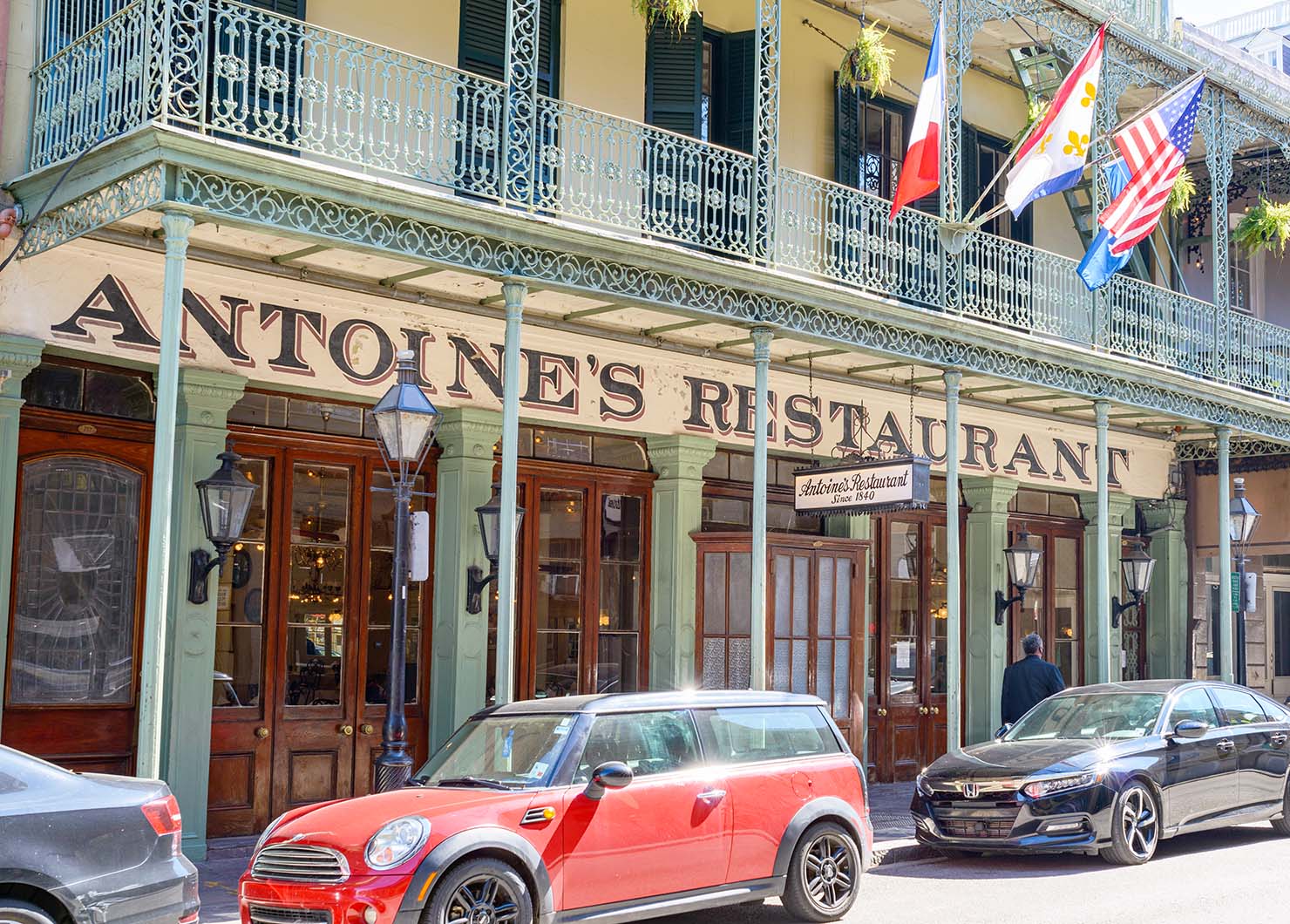 Antoine's
French Quarter
$$$ – Business Casual
Traditional Louisiana Creole
Oysters Rockefeller
For an incredible dining experience that's as easy on your eyes as it is on your taste buds, you can't go wrong with Antoine's.
Often considered one of the best places to eat in New Orleans, Antoine's is the birthplace of dishes like oysters Rockefeller, eggs sardou, and Pompano en Papillote, just to name a few.
It's also the oldest family-run restaurant in America, having been run by the same family since it opened in 1840.
The elevated Creole cuisine is enough of a reason to stop by, but the historic aspect makes it even more appealing.
Tip: Antoine's is extremely popular so you should make a reservation to make sure you get to eat there!

*images courtesy of Compère Lapin
Compère Lapin
Arts/Warehouse District
$$ – Smart Casual
Louisiana Creole with a Caribbean Flair
Curried Goat
The chefs at Compère Lapin have created a menu that is simple yet flavorful with the theory that meals don't need to have shock value to be impressive. One of the most popular dishes offered here is the curried goat which is served with sweet potato gnocchi.
In addition to delicious food, you'll be able to enjoy a lively atmosphere at Compère Lapin thanks to the friendly waitstaff.

*images courtesy of Dooky Chase Restaurant
Dooky Chase Restaurant
Tremé
$$ – Casual
Soul Food
Creole Gumbo or the Shrimp Clemenceau
If you're at a crossroads on your New Orleans foodie tour and aren't sure exactly what you want but you know you want it to be good, head to the historic Treme neighborhood to find Dooky Chase Restaurant for lunch.
The menu at the restaurant was curated by Chef Leah Chase, who is known as the "Queen of Creole Cuisine," a title she has surely earned.
The lunch buffet they offer changes daily but you'll always get a taste of some of the finest soul food in New Orleans with dishes like the hearty red beans and rice.

*image courtesy of Cochon
Cochon
Arts/Warehouse District
$$ – Casual
Cajun
Fried Alligator
The modern industrial vibes of Cochon's dining room might seem unassuming but when you step inside you'll be treated to a friendly atmosphere and an absolutely delicious culinary experience.
Although there are some items you can regularly find on the menu at Cochon, the offerings rotate on occasion so they can always use the freshest seasonal ingredients possible.
One of the dishes they offer regularly is the fried alligator, which is served with a chili garlic mayonnaise. It's kind of like popcorn chicken served with spicy and tangy sauces which make for a culinary experience that's uniquely Louisiana.
Tip: Cochon has an attached sister restaurant called Cochon Butcher, which is a sandwich shop and butcher. It's a more budget-friendly option and it tends to be a lot quicker so it's a great way to get a taste of Cochon on the go.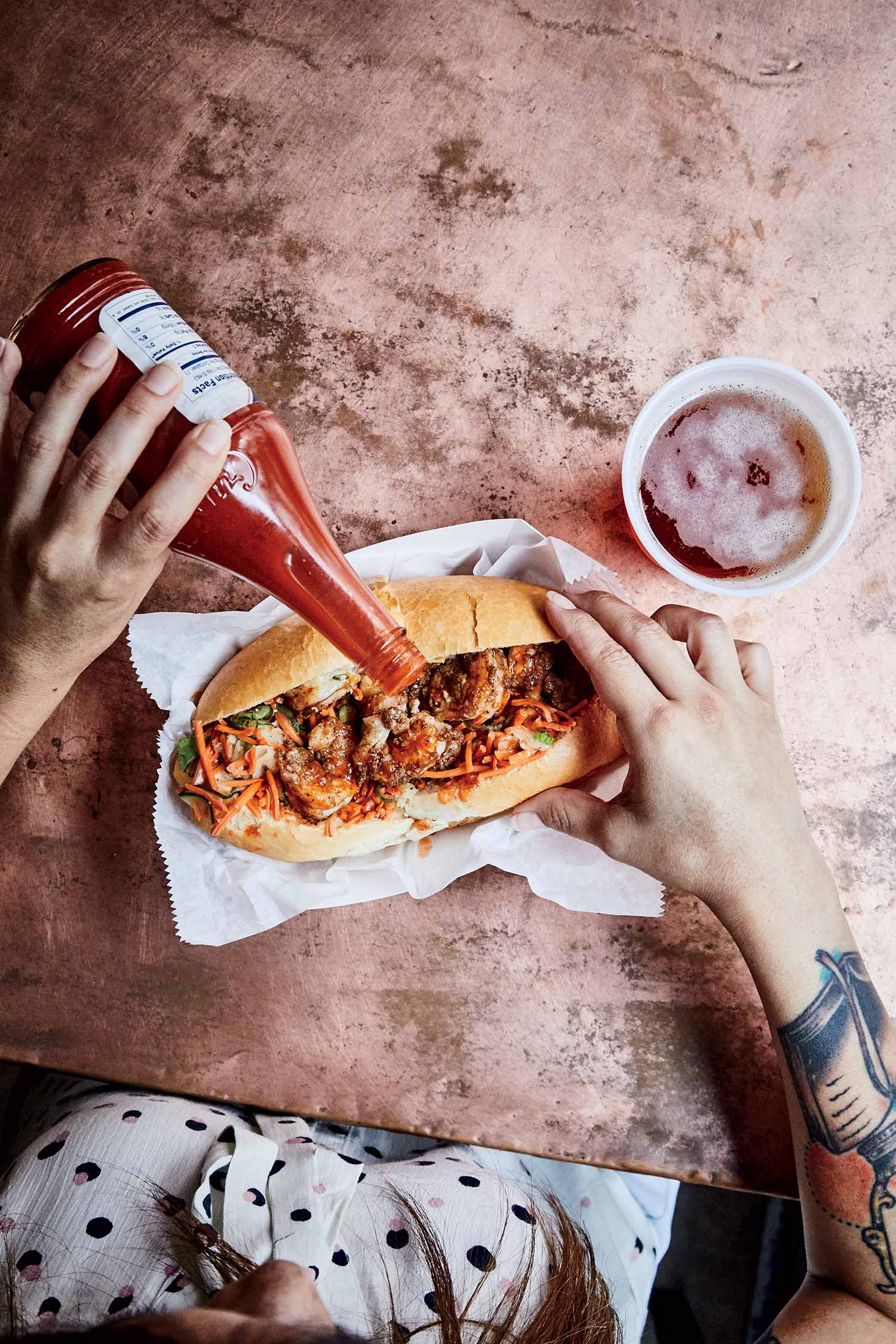 *image by Peter Frank Edwards for Garden & Gun and Killer Po'Boys
Killer Po'Boys
French Quarter
$ – Casual
Po'Boys
The Seared Gulf Shrimp Po'Boy
The name of this French Quarter eatery is spot on — the po'boys you can get here are truly to die for!
If you're not familiar, this Louisiana staple is a type of sandwich that is made with a specific type of fluffy bread with a particularly crisp crust.
The sandwiches are usually served with fried seafood like shrimp or crawfish, and you can get it "dressed," which means it comes with lettuce, tomatoes, pickles, and mayonnaise.
Killer Po'Boys serves up some traditional recipes but you can also try something a little different like the Pecan Butter & Jelly or the Cheddar Omelet!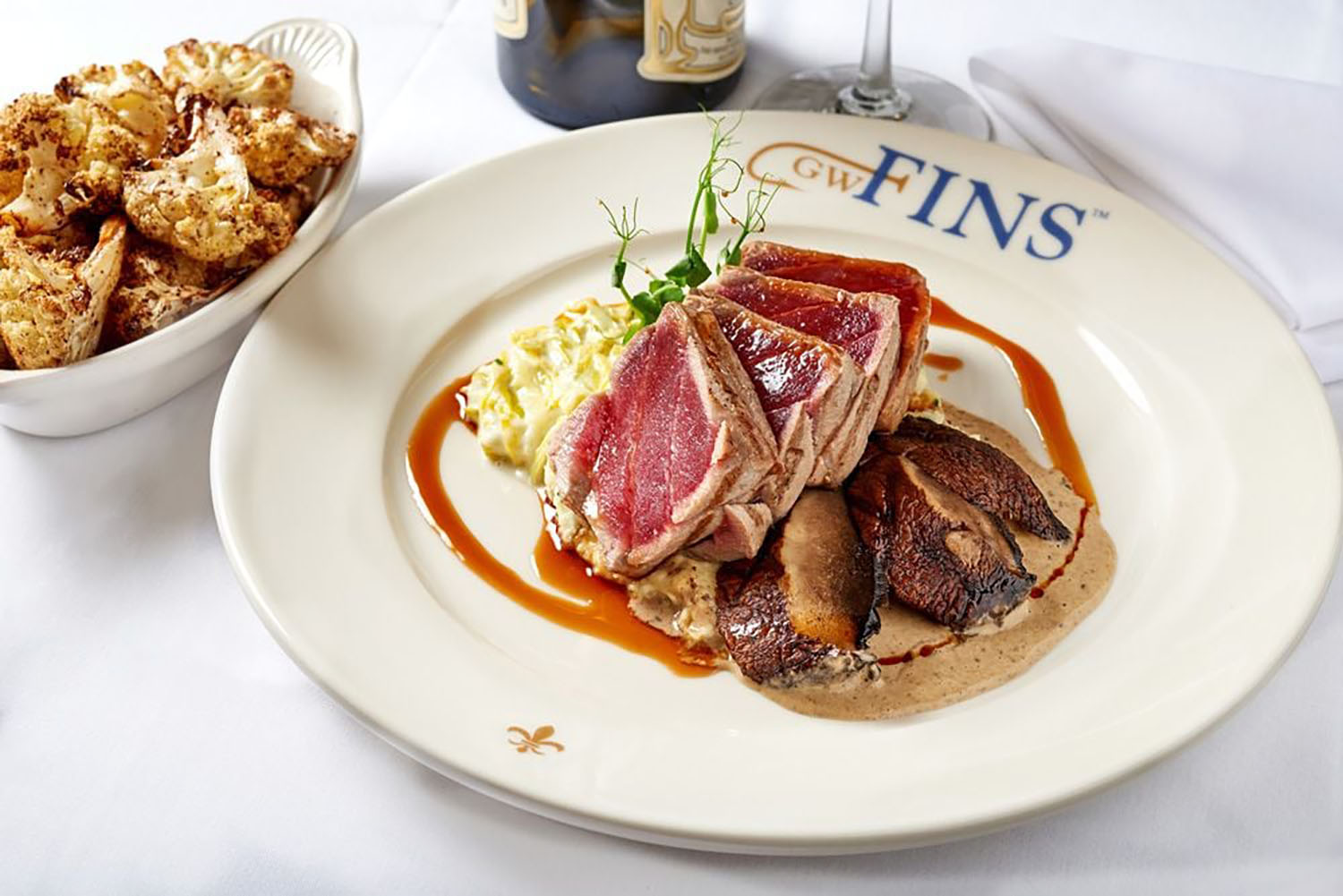 *image courtesy of GW Fins
GW Fins
French Quarter
$$$ – Dressy Casual
Seafood
Lobster Dumplings
If you aren't sure what kind of cuisine is served at GW Fins before you go, you'll get some serious clues when you see the fish fin-shaped awning over the front door and the various sculptures and works of art inside that feature marine life.
The menu will verify that GW Fins serves up some of the finest and freshest seafood dishes in New Orleans.
As the kitchen at GW Fins receives different selections of seafood every day, the menu is always evolving so that they can always feature the best meals possible.

*image courtesy of Atchafalaya
Atchafalaya
The Garden District (The Irish Channel)
$$$ – Fine Dining
Contemporary New Orleans Cuisine
Chicken and Waffles
The rustic and folksy yet refined Atchafalaya is one of the best brunch spots in New Orleans for foodies.
The Chicken and Waffles are served as part of the brunch service and it's an elevated version of the classic dish.
The Chicken and Waffles at Atchafalaya are served with fried chicken thigh, garlic-chili crunch oil, fermented garlic honey, green onions, Steen's cane-pecan syrup!
How good does that sound?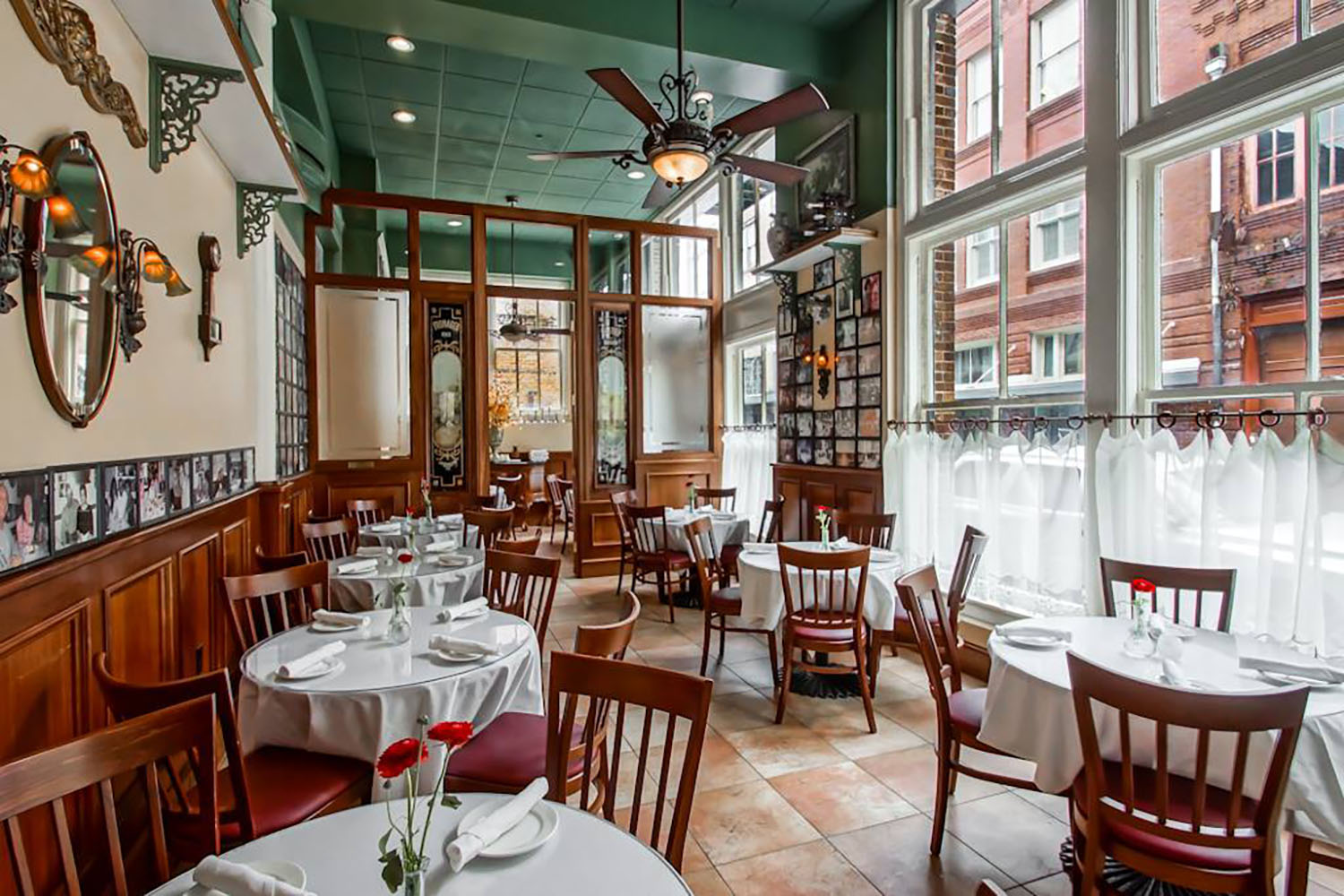 *image courtesy of Irene's
Irene's
French Quarter
$$$ – Fine Dining
Upscale Italian Cuisine
Duck St. Philip
Irene's combines upscale dining with an elegant atmosphere for a quintessential New Orleans dining experience.
On certain evenings, the restaurant has live piano music for the guests to enjoy.
The menu is all-Italian with some Louisiana flavors so anything you get will be amazing but if you can't decide, try the Duck St. Philip, which is often considered the best duck-based dish in New Orleans!

If you're as hungry after reading this as I was after writing it, you're probably craving a trip to New Orleans! For help planning the perfect long weekend in the Big Easy, check out this New Orleans itinerary.
For places to stay, check out this list of picture-perfect AirBnBs in NOLA.